AMERICAN COLLEGE RECEIVES POSTGRADUATE ACCREDITATION - START ON YOUR Lic.G. DIPLOMA TODAY
 Today, we have just been advised that accreditation of our Post Graduate Diploma is now official. We are now able to grant the licentia ad practicandum which is an accredited Licentiate (Licenses) diploma.

We are the only school in America to offer a licenses or Licentiate to practice and teach genealogy, heraldry and documentary sciences as an academic vocation. See the term Licentiate in Wikipedia. 

Other good news is that our American School was the focus of the College of Teachers' March Newsletter.  
It has been a  year since we made our submission to this program and it has been a long journey. In total, we have spent three years in gaining program accreditation. Our next  journey  is to  gain accreditation with 
one of the Professional Accreditation Agencies in the United States 
Courses of Potential  Interest:
Forensic Genealogy

DNA and Genetics

Cultural Anthroplogy

Sociology Trends in Genealogy

Advanced Teaching of Anthropological-Genealogical Theory Concepts
---
Take our FREE Darkroom Black and White Photographic Course on Family History and Historical Landscape Changes. The course is 10 weeks long and the text book is FREE. - contact Prof Lindgren
25 % Scholarships and Fellowships on Certificate and Postgraduate programs.
The College also offers a COMPLETE Fellowship to Students wishing to translate syllabi and other documents into Spanish and Italian.
---
Meeting faculty, staff and students from London was wonderful. Here is a photograph of our vice-president, Dr. LaWanna Blount (author of Why I became a Professional Genealogist, a Case study of 91 professional genealogists), Prof. John James Tunesi of Liongam and his wife and fellow faculty member, Jane Tunesi having lunch at THE VAULTS at the Royal Society of Arts.
 Some of our faculty are Fellows of this noted academic society founded in the 1700s. Ben Franklin was elected as a Fellow of the Royal Society of Arts while ambassador to France.
---
Our two weeks in Europe attending genealogical, heraldic and chivalic activities were outstanding. Remember, if you ever go to London, go to Rules. The food and service are fit for a King. In fact, a former king ate there all the time.
We have just returned from the FGS Conference in Fort Wayne, Indiana and in 2014 we are heading to Norway, Italy and Montenegro to work with other genealogical and academic groups and make friends and colleagues. The  trip to the

FGS Conference was fun and informative.

Fort Wayne, IN - Charter Flight Group - http://www.charterflightgroup.com/private-jet-charters-to-fort-wayne-indiana

---
 The Foellinger–Freimann Botanical Conservatory is an enclosed conservatory in downtown Fort Wayne, Indiana, United States

---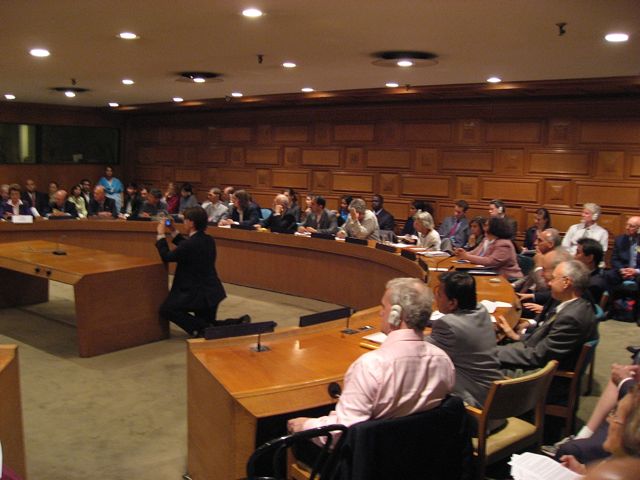 Workshop on Nuclear Disarmament in collaboration with Global Security Institute & Middle Powers Initiative, and The Mother's Service Society (India)New York, October 11-12, 2006
The Academy convened a two-day meeting in New York (October 11-12, 2006) in collaboration with the leadership of the Global Security Institute and its Middle Powers Initiative to explore the potential for cooperative effort.
---
Call Us Today!
Please contact us anytime! We look forward to hearing from you.
CONTACTS:
Main Websites
Site 1: 
www.americanschoolofgenealogy.com - Potential students

Site 2:
 www.college-of-genealogy.com - Faculty and Current Student Records and Syllabi

Main E-Mails
President - Dr. Carl Edwin Lindgren - Skype (celindgren)
Vice President & Dir. of Academic Studies - Dr. LaWanna L. Blount
Chair of Heraldic Studies- Mr. John James Tunesi of Liongam 
Chair of Family History - Jane Tunesi of Liongam
Chair of Genealogical and Paleographic Studies- Vacant
Chair of Documentary Sciences - Vacant
Equal Opportunity Officer - Mr. Antonio Cardona
Contact Information - contact@americanschoolofgenealogy.com
---
Some Links of Interest
 VISIT FGS RADIO.
READ COLLEGE ACCREDITATION BOOKLET
 BRUCE DURIE ON RADIO & TV  NOTE - BRUCE DURIE WEBSITE
BEST 10 UNIVERSITIES IN THE WORLD

---

While in London, the College's President, Dr Carl Edwin Lindgren received a personal invitation and tour of the
Society of Antiquaries
(London),
Royal Anthropological Institute of Great Britain
,
Royal Society of Chemistry,
Royal College of Teachers
,
Royal Society of Arts
,
Royal Photographic Society
and Royal Asiatic Society of Great Britain and Ireland. He was also accepted as a Fellow of the
Royal Institution of Great Britain
and had tea in the Fellow's Room of the Society of Antiquaries - London.